Itinerary:
Day 1
9.45-10.00:
Meeting in the port
You will see me waiting for you once you have disembarked and cleared passport control.
10.00-11.00:
Nevsky prospect
walking tour
We start with a relaxed walking tour along the main street Nevsky prospect - mixing with locals and seeing the astonishing buildings of the former Russian capital (a visit to Kazan cathedral during morning service is included).
11.00-12.00
Church on the spilled blood.
We will tour St Petersburg's most elaborate church marvelling at the dazzling exterior and an interior decorated with some 7000 sq metres of mosaics, Italian coloured marbles and decorative stones from the Urals and Altai region.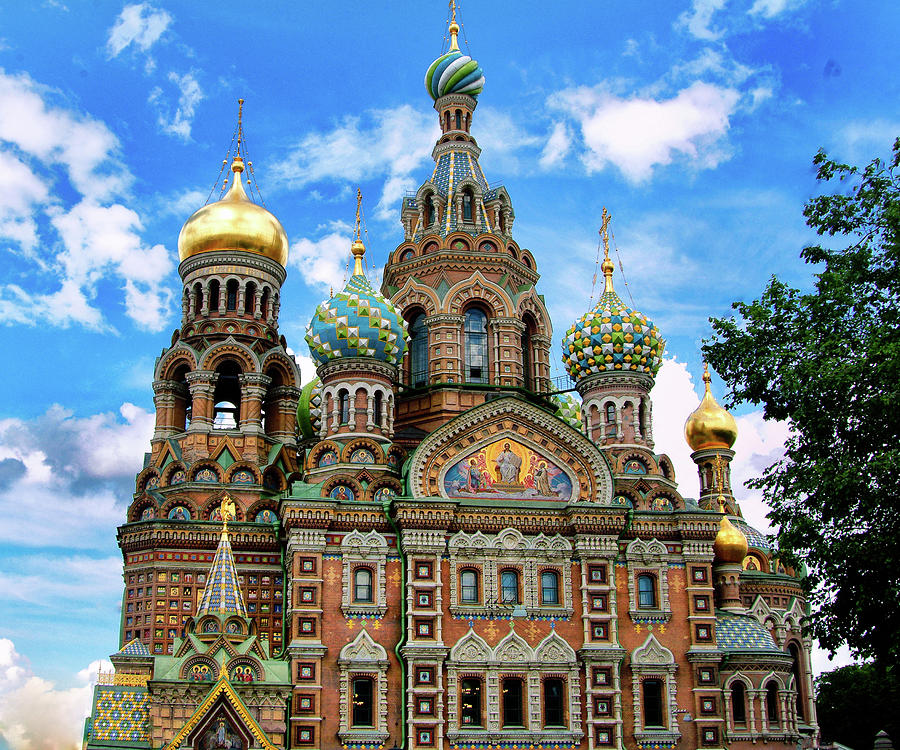 12.00-13.00:
Lunch or coffee break at a local cafe.
13.00-15.30:
Hermitage
tour.
Marvel at the magnificent interiors of the winter palace while viewing the stunning collections of European art which are displayed in the museum. I am happy to adapt the tour to your interests: it can be focused on the history of Russian royal family plus the most impressive interiors OR on the art collection - we can agree it in advance.
15.30-16.30:
Impressionist collection
tour.
The impressionist collection was previously displayed in the main Hermitage complex, but was moved to the General Staff building in 2015.
17.00-18.00:
Canal boat
tour.
Cruising the rivers and canals that surround St. Petersburg is an amazing and fun way to explore the city's attractions and its famous landmarks. This is a public tour, but with an English commentary.
17.00-18.00
Transfer back to your ship.
Optional stop enroute for
souvenir shopping
.
You can buy many interesting and unique souvenirs in Russia such as Replica Fabergé Eggs, Porcelain, Lacquered Boxes, Amber items - and of course our famous "matryoshka" nesting dolls.
Day 2
8.00-9:00: Meeting in the port - transfer to the city center
9.00-10.30:
Peter and Paul Fortress
Founded by Peter the Great in 1703 and named after two apostles it is one of the city's most popular sights. Here we will see gardens, statutes, and several historic buildings. The highlight will be a visit to the
burial vault of Russian kings
.
11.00-12.00:
Tour of
St. Isaac's cathedral
This lavishly decorated building is the largest cathedral in St. Petersburg and a recognisable city landmark thanks to its imposing golden cupola. We will have a guided tour inside and learn about some of the interesting history of this unique building.
12.00-12.45:
Short break for tea or lunch.
We will have a light lunch at a local café with more opportunity to chat about history and life nowadays in Russia.
12.45-13.30:
Travel to
Tsarskoe Selo
Situated in the town of Pushkin a few miles from St. Petersburg this is the famous former suburban imperial residence of Russian tsars in St Petersburg which they used in the summer. After several hours of sight-seeing you may even appreciate the rest that the short journey affords. As an added benefit we will pass by some interesting sights enroute.
13.30-15.30
Catherine palace
This is the main visitor attraction at Tsarskoe Selo for good reason. Here we will see spectacular state rooms intricately decorated, interesting art collections and as the crowning glory we will visit the famous and incredibly beautiful Amber Room. Next we will walk in the formal garden of the palace, moving into the landscape park, and enjoying as we go the sights of the surrounding decorative statues and pavilions.
15.30-16.30
Transfer back to the city center
On the return journey we will have the opportunity to stop at a
farmers market
. Amongst the wide range of products on sale you can find especially good quality honey, from various regions of Russia. If you are interested in buying some the stallholder may let you have a taste to decide which to choose. Alternatively we can stop at a local supermarket where locals usually shop.
Day 3
8:15-9.00:
Meet in the port
Meet and transfer to city center to start the tour.
9.00-9.45:
Metro Stations
We will tour the most impressive palatial stations in St. Petersburg where we will see grand columns, marble interiors and ornate decorations of the soviet period.
9.45-11.00:
Transfer to
Peterhof
by comfortable mini-bus.
We will travel a short distance to Peterhof. Situated by the gulf of Finland this palace and amazing fountain park was founded by Peter The Great and is listed as a UNESCO World Heritage Site.
11.00-12.00:
Cottage Palace
.
First we will see the Cottage Palace, which is interesting as it is completely different from other palaces. This was the only one built for
private
life, not for impressing foreign ambassadors.
12.00-13.00: Lunch in a local restaurant.
13.00-15.00:
Fountain park
of Peterhof.
With over 140 fountains it is no wonder that Peterhof is often referred to as a Russian Versailles. In addition to the impressive Grand Cascade and magnificent Samson fountain we will see many other interesting and beautiful fountains and statues. As we stroll around the park we will even see funny trick fountains which amuse both children and adults alike.
15.00-17.00
Transfer back with
photo stops
On the way back from Peterhof we will stop by some interesting city landmarks, have a quick look around, and take a few photos. This is the best time for photos as the afternoon light is less harsh and more flattering, with the added advantaged that there are fewer people to obstruct the views.
17.00-17.30
Transfer back to the ship
Return back to the ship and bid farewell to St. Petersburg.